Show and Tell
(October 22, 2006)


Just a couple of notable food-related items, because we don't have anything really urgent to talk about at the moment.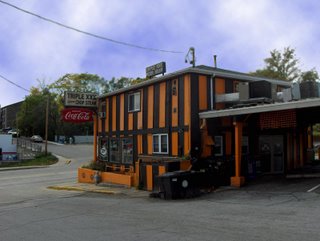 EXHIBIT "A" --
Triple XXX Family Restaurant
-- West Lafayette, IN
A gen-u-ine drive-in just off the Purdue University campus, they prounounce it "Triple-ex", and not "Triple triple-ex", which would indeed be more correcter. Or, simply,
ninety
. The name comes from the root beer, which is brewed in Texas. And though the root beer was good (although
Mug-n-Bun
is still the champ for us), it was the
Duane Purvis
All-American burger
that stole the show. To quote the menu:
"A burger for the more adventurous! A 1/4 lb. of 100% ground sirloin with
thick creamy peanut butter
served on a toasted sesame seed bun with melted American cheese, lettuce, tomato, pickle, and onion. A
very
special treat!"
Can't say it any better than that. And it was a very natural taste combination. If you've ever had Thai beef
satay
, that's kinda-sorta what it tasted like (if you added American cheese, lettuce, tomato, pickle, and onion to it). It totally worked, both of us found it to be quite teh tasty, and later we had
very
special belches.
EXHIBIT "B" -- Aptly named snack food --
Eight miles high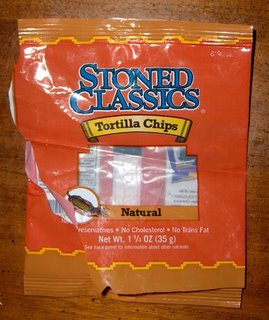 This little bag of goodness was served in one of those conveniently overpriced
snack boxes
they now offer on air flights.
Yes, someone finally branded their tortilla chips as "
Stoned Classics
". Until now it had only been a dirty little secret that
bong and bud-toting Americans
with the munchies constituted 75% of the baked & fried snack market. Well, it's right there on the table now, isn't it? "Natural"? You bet!
That's all we got for now.
Keep
on
truckin'
.
P&S