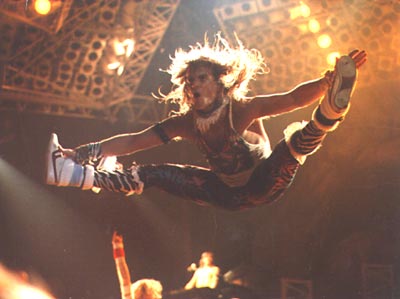 Much like the ocean, the internet frequently tosses pleasant surprises up onto the beach, and it is up to us to make the best possible art out of the driftwood bounty.
If you haven't heard it yet: some while back, Chunklet unearthed David Lee Roth's isolated vocal track from "Runnin' With the Devil", and it's…well, it's frickin' awesome. (Kindly check your "Sammy Hagar was better" comments at the door–Sammy is fine, but that's not what this is about*.)
Now, for your A.D.D.-addled spans of attention, we present the Condensed Awesome DLR RWTD Tidbits as a special tribute. It's like having the '80s stuffed into a small box you can open anytime.
As an added bonus, we've saved all of the individual yowls, yelps, screams, grunts and exclamations as individual sound files (MP3 or WAV) so that you can roll your own. And there's a special prize goes to whoever can tolerate DLR's "WHOOOOOOOoooooo!" as their OS alert sound for the longest.
And as an extra added bonus, we've put together a video for it as well and we've posted it to the YouTubes. Because that's what we do.
UPDATE: Previous video not embedding properly for some odd reason; re-uploaded and re-embedded, should work now.

*though Storm's wife thinks that Sammy's hair is the best of all time.